Alber USA
Alber USA
Twion
Having a disability does not mean having to give up an active life. Alber USA can help give you back your independence and increase your quality of life. Alber USA's Twion Power Assist Wheels allow you to go longer distances without getting fatigued. The Twion Power Assist Wheels can fit almost any wheelchair and travel up to 10 km/h. When you are done with your journey for the day, the Twion Power Assist Wheels can easily be removed from the chair for easy storage.
Benefits of Twion Power Assist Wheels
Optional smartphone app
Optional Mobility Plus package
Track and record your usage via GPS
Handheld display shows your current speed, traveled distance, or the charge status of the batteries
E-Fix
Similarly to the Twion Power Assist Wheels, the E-Fix is an additional drive option that allows you to convert your manual wheelchair into a mini electric wheelchair. The E-Fix will allow you to drive longer distances without overly exhausting your extremities. You can control the speed range from 0.5 to 6 km/h at the gripping regulator. Take charge of your life with the E-fix Power Assist.
Benefits of E-Fix Wheels
Option to push by hand even if the wheelchair even with an E-Fix attached
Disassemble with ease. No tools required
Easy storage
Compact
Optional smartphone app
Filters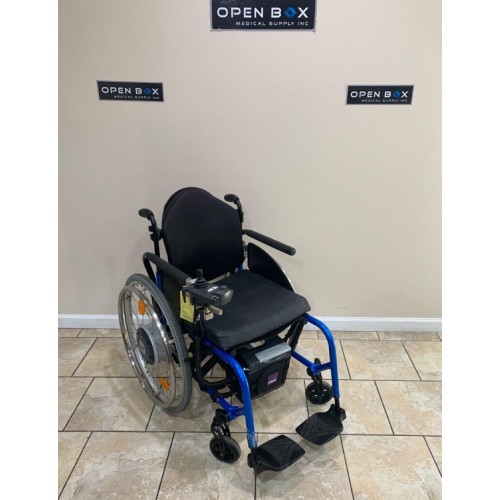 | WEIGHT CAPACITY | RANGE | DISSASSEMBLES | WEIGHT |
| --- | --- | --- | --- |
| 274 LBS | 10 MILES | YES | 17 LBS PER WHEEL |
TiLite Aero X With E-Fix E25 Power Assist Wheels
by
Alber USA
(Model: E25A)
Pre-Owned TiLite Aero X S2 With E-Fix E25 Power Assist Wheels. TiLite's Aero X Series 2 Aluminum Wheelchair builds on the original Aero X model by combining unmistakable TiLite design elements with the convenience of a folding chair. The E-Fix E25 Allows you to convert your manual wheelchair into a Lightweight Power Wheelchair that is easily disassembled for travel.
$2,995.00
List Price: $12,598.00
Scalamobil IQ Stair Climber for Wheelchairs
by
Alber USA
(Model: scalamobilff)
Every single step is an obstacle if you are no longer able to independently climb stairs due to illness or disability – be it at home, at the doctor's office, in public buildings, or when visiting friends and relatives. The new scale mobile makes difficult routes accessible again: It doesn't matter whether stairs are steep, narrow, or windy, whether they are made from wood, stone, or carpeted: scala mobile easily and smoothly climbs all stairs. And it is simply and safely operated with little effort. Scalamobil can be used with some common models of folding manual wheelchairs or can be fitted with a Scalachair or Scalaport accessory.
| Wheel Size | Drive Range | Total Weight |
| --- | --- | --- |
| 22" | 15.5 miles | 34 lbs. |
$5,495.00
List Price: $7,945.00